Make Your Own Addons!
What is this stuff?
Addons are custom features that you can add to your Vanilla forum. Addons are created by our community of developers and people like you!
Will it work on my Vanilla Forum?
These addons are for people who downloaded and set up their own Vanilla forum. Compare your downloaded version with the version requirements on the right.
If your Vanilla forum is hosted at VanillaForums.com, this addon may already be installed there.
Vanilla Approved?
We review addons to make sure they are safe and don't cause bugs. An addon is considered to be "Vanilla Approved" once our review process is complete.
Follow Us
Apptastic
0.9.2
Warning! This community-contributed addon has not been tested or code-reviewed. Use at your own risk.
Author

Version

0.9.2 

Released

Downloads

1,062

File Size

281.4K
Requirements
Vanilla

Vanilla 2
Applications

Vanilla >=2.1
This addon is a theme. You need to extract it to your /themes folder to install it.
A sleek and super modern desktop-like interface for Vanilla derived from the
Sentry
application. The theme is based on the
Bootstrap framework
by
Twitter
and built using
Austere
as well as the
Compass
framework. This is NOT a ready-to-use theme and is merely meant as a canvas of ideas. Feel free to fork the theme on Github and send me a pull request if you have some great code you want to share.
You can find the Github repository here:
https://github.com/kasperisager/vanilla-apptastic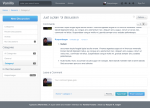 Questions