Make Your Own Addons!
What is this stuff?
Addons are custom features that you can add to your Vanilla forum. Addons are created by our community of developers and people like you!
Will it work on my Vanilla Forum?
These addons are for people who downloaded and set up their own Vanilla forum. Compare your downloaded version with the version requirements on the right.
If your Vanilla forum is hosted at VanillaForums.com, this addon may already be installed there.
Vanilla Approved?
We review addons to make sure they are safe and don't cause bugs. An addon is considered to be "Vanilla Approved" once our review process is complete.
Chosen Category
1.2
Warning! This community-contributed addon has not been tested or code-reviewed. Use at your own risk.
Author

Version

1.2 

Released

Downloads

389

File Size

17.6K
This addon is a plugin. You need to extract it to your /plugins folder to install it.
Utilizes the Chosen plugin by
Harvest
for super sweet category selections.
Turns the default category selector into a searchable selector using the Chosen jQuery plugin. Perfect for communities with a ton of categories or just people who want the category selection process to be as smooth as possible.
It supports using top level categories both as selectable categories as well as headers. However, as the search functionality does not work if non-breaking spaces are included, these are removed by a script. This means that you'll no longer be able to distinguish between different levels of categories other than headers and child categories.
You can this plugin's repository here:
https://github.com/kasperisager/VanillaAddons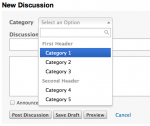 Questions