Make Your Own Addons!
What is this stuff?
Addons are custom features that you can add to your Vanilla forum. Addons are created by our community of developers and people like you!
Will it work on my Vanilla Forum?
These addons are for people who downloaded and set up their own Vanilla forum. Compare your downloaded version with the version requirements on the right.
If your Vanilla forum is hosted at VanillaForums.com, this addon may already be installed there.
Vanilla Approved?
We review addons to make sure they are safe and don't cause bugs. An addon is considered to be "Vanilla Approved" once our review process is complete.
Members List
1.1
Warning! This community-contributed addon has not been tested or code-reviewed. Use at your own risk.
Author

Version

1.1 

Released

Downloads

381

File Size

1.8K
This addon is a plugin. You need to extract it to your /plugins folder to install it.
Simple members list.

This is a very basic member (user) list plugin. It adds a menu item to the frontend that leads to a members page. No paging, sorting or search is implemented so if you have many users then it is not the right plugin for you.
Only logged in users can see it.
Thanks to peregrine for some suggestions.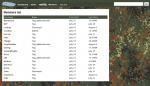 Questions