Make Your Own Addons!
What is this stuff?
Addons are custom features that you can add to your Vanilla forum. Addons are created by our community of developers and people like you!
Will it work on my Vanilla Forum?
These addons are for people who downloaded and set up their own Vanilla forum. Compare your downloaded version with the version requirements on the right.
If your Vanilla forum is hosted at VanillaForums.com, this addon may already be installed there.
Vanilla Approved?
We review addons to make sure they are safe and don't cause bugs. An addon is considered to be "Vanilla Approved" once our review process is complete.
Rice Balls
1.0.1
Warning! This community-contributed addon has not been tested or code-reviewed. Use at your own risk.
Author

Version

1.0.1 

Released

Downloads

372

File Size

29.3K
Requirements
Vanilla

Vanilla 2
Applications

Vanilla >=2.0.18
This addon is a plugin. You need to extract it to your /plugins folder to install it.

Replaces
emoticons
(smilies/smileys) with David Lanham's Rice Balls images from AdiumXtras.
Originally created for AGBIC.com game development competition:
http://www.agbic.com
This plugin is a heavily modified version of Emotify 2.0.1 (as bundled with Vanilla 2.0.18.x) by Mark O'Sullivan.
Most images it contains were drawn by David Lanham:
http://www.adiumxtras.com/index.php?a=xtras&xtra_id=4207
Changelog:
1.0.1, emotify dropdown disabled for edit comment textarea
1.0.0, initial release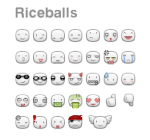 Questions
No questions yet.